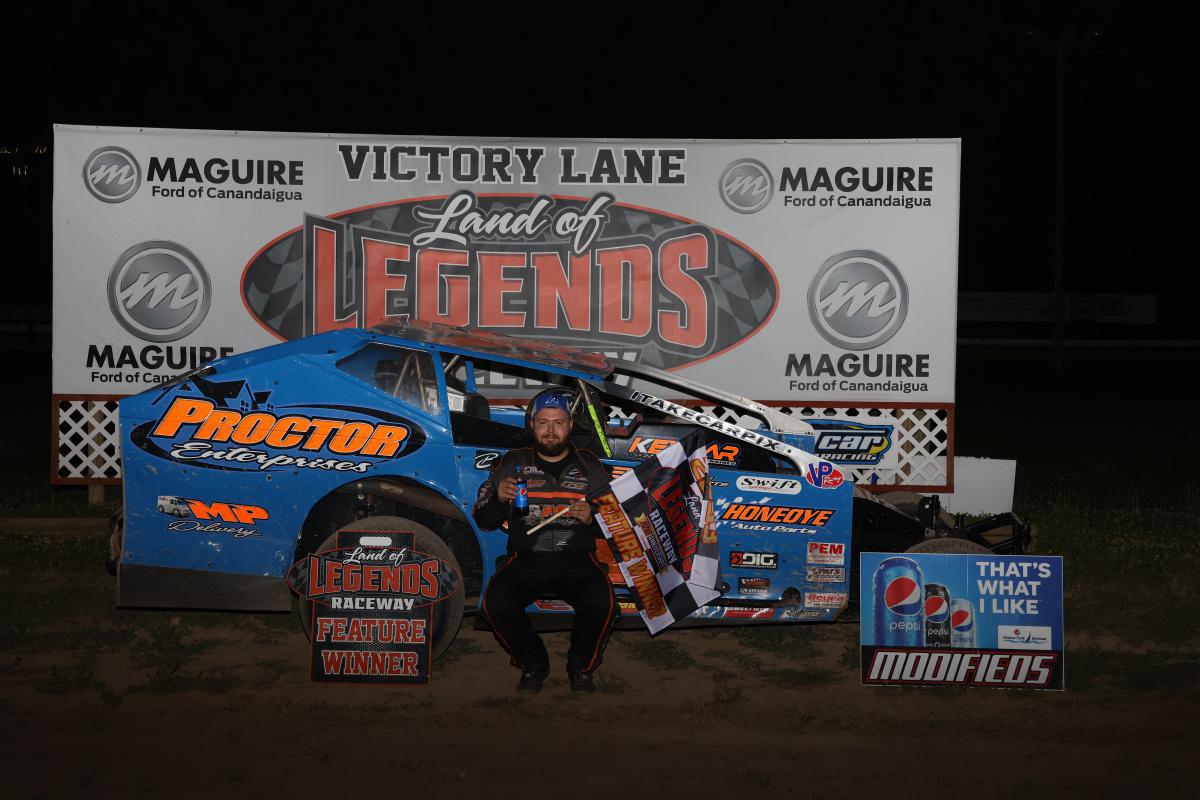 Payne Logs 1st-Ever Land Of Legends Big-Block Win In Last Turn Of Last Lap
Kolosek & Sobotka capture first checkers of season as Grant & Kerrick return to victory lane
Canandaigua, NY – July 8, 2023 – Tom Skibinski, Land of Legends Raceway PR
After three weeks without a single lap run, Land Of Legends Raceway returned to action July 8 and it was a Saturday Spectacular to remember as 2022 Rookie of the Year Zach Payne captured his first-ever Pepsi Big-Block Modified feature win on Geneva Club Beverage/Pepsi Night.
"Don't even know, the adrenaline is still going," remarked Payne, 22, attempting to get a grip on his late-race heroics after the second-generation driver from Stanley authored a storybook last turn, last lap pass to score the dramatic victory. "Best feeling ever, its crazy, never felt anything like it. Can't wait to get home and celebrate some more in the garage, probably won't sleep tonight."
Joining Payne in the winner's circle for the ongoing 70th Anniversary season celebration were Johnny Kolosek (MighTea Boba 305 Sprint Car), Zach Sobotka (Stirling Lubricants Sportsman), Jimmy Grant (Eldredge & Sons Scrap Recycling Street Stock) and Daniel Kerrick (Lloyd's Contracting Hobby Stock). Despite a season-high nine teams registered, the Maguire Ford of Canandaigua New Legends Sportsman finale was postponed to next weekend due to curfew with the July 15 card now providing a pair of 12-lap feature races for entry-level drivers.
With fellow Big-Block upstart Alex Payne (no relation) already suffering a blown engine to relinquish the lead with just six to go in the headline 30-lap Big-Block race, Payne took advantage of the fourth and final caution with one lap left to overtake Derrrick Podisadlo exiting the fourth corner for the fortuitous first-place trophy.
After finishing 1-2 in their qualifying heat, come feature time pole-sitter Zach led the opening six circuits before seventh-starting Alex charged high rounding turn four to move ahead of the 20-car field. Making a rare appearance at the Ontario Co. Fairgrounds oval, Todd Root stopped high in turn two to incur the first slowdown on lap 10 with Podisadlo, Ward and Alan Johnson filling out the front-five. Ward swapped spots with 'AJ Slideways' by the halfway mark with Danny Johnson and Kyle Coffey joining the fray as Peter Britten and points leader Justin Haers took over Top-10 positions further back.
Alex Payne looked poised for his own career first Big-Block checkered flag on the hallowed half-miler until smoke started billowing from the black #70A Nardozzi Paving machine. With Zach Payne riding in his rear-view, Podsiadlo quickly assumed the point on lap 25 and appeared destined for his first win in Canandaigua since June of 2009. In a harsh turn of events, however, both Britten and James Sweeting suddenly slowed down the back stretch on the white flag lap to force out an unforeseen caution and set up the unexpected outcome.
Back under green, Payne shadowed Podsiadlo the entire way, laying it all on the line the last quarter-mile as his Kevlar-powered #7z MP Delivery-Proctor Enterprises-Honeoye Auto Parts-All About Grass Landscaping/Bicknell mount charged ahead in whirlwind fashion to become the 108th different Big-Block winner in track history.
"The last lap I'm like 'man, I'm gonna have to drive this harder and harder as it'll go,' harder than I've ever driven," figured Payne, after becoming the second straight first-time winner at LOLR in 2023, joining Sobotka who led all 30 laps on June 17. "Never lifted going into (turn) three on the last lap, just kept it buried. Figured if I got a good enough run with it being a restart there, would kinda have my momentum built up there by three and get by him."
"(Podsiadlo) was kinda pulling away near the end, my right rear (tire) was getting hot from running the top (lane). The top was going away a little bit in turns one and two but just knew I had to carry the momentum thru one and two and into three … just carrying it and rotating, keep the throttle in it, and we ended up getting by him in the last corner," downplayed Payne, with the winning car sporting a return to the blue paint scheme that was prominent when he won a pair of features at LOLR in 2021 during his third and final season of Sportsman competition. "Have to thank my dad, he's huge, he funds everything and I appreciate everything he does."
Still in search of a third win in Canandaigua, Podsiadlo was just as admirable in defeat as he fell a car-length shy during his latest bid for the $2,000 top prize.
"Felt pretty good, just tried to keep my head and keep the tires underneath me, would need a better man to take me up top," said Podsiadlo, now 45, on Saturday night seemingly just as sharp buckled in behind the wheel of his no. 21 Penn Yan Express Store-Penn Yan Mini Storage/Bicknell entry. "Knew Zach was gonna be right there, don't mind losing to him one bit, he ran a great race."
"No one understands how much time gets put into this, come here and beat your head against the wall night after night. This is like a win, been a long time coming," added Podsiadlo, following his first top-5 finish of the season, outlasting all-time LOLR winner Alan Johnson, Ward and Coffey in the final rundown.
Mirroring Podsiadlo's heartbreaking result when a last lap yellow flag erased his own sure victory on June 17, Kolosek remained unfazed as the Marion speedster rebounded to improve one position in the 20-lap 305 A-Main. He also matched Payne as the second 22-year old winner on Saturday while Sobotka turned 23 in late June.
"It was awesome out there, the racing was good," stated Kolosek, after parking his potent #10 Todd's Towing-Pet Passages Crematory/Mach1 in the winners circle for the fifth time at LOLR, his first win coming in 2019. " The track came in awesome, there's plenty of bite and some fast racing. Couldn't ask for a better night."
Kolosek set the tone early, copping the second of three qualifiers before joining division rookie Adam DePuy on the front row for the 10-mile main. A pair of early yellow flags flew with Ethan Gray surviving a perfect 360-degree spin on lap two before DePuy had his night end parked in turn one on the ensuing lap three restart.
Veteran Bobby Parrow blasted by Kolosek for the lead on the second lap three restart and opened up a comfortable advantage by the midway point. Gray looped his winged machine in turn two and the lap 12 restart was all Kolosek needed to regain the number one spot.
Looking for his third straight win, 14th starting Jordan Hutton moved into second on lap 13 and when Thomas Radivoy went around on lap 17. He pulled up to the bumper of Kolosek gearing up for another late-race replay while Parrow reportedly ran out of fuel even before green flag racing returned on lap 18.
The rematch was now set with three laps left yet this time Kolosek never flinched as he opened up a commanding eight car-length margin under the checkers. Fresh off a CRSA Series win the night prior in Dundee, Frenchman Tomy Moreau stormed from 15th to third while all-time LOLR winged winner Darryl Ruggles and Dillon Paddock ----involved in the lap 3 DePuy incident with tree branches briefly wedged in his cockpit--- rounded out the front-five.
Along with the $500 first-place payoff, Kolosek also earned an additional $100 for the Prouty's Bar bonus after halting the two-race win streak of Hutton, who emerged as the new 305 points leader over Ruggles and James Layton.
While the June 17 run to riches for Sobotka was his first-ever in an abbreviated Big-Block career, Saturday's Sportsman triumph was the first of the season for the reigning division points king.
"Glad that we could get a win in our own car, been close all year," stated Sobotka, who made his maiden voyage to victory lane in a Big-Block for car owner Tom Coar before making it two straight on Saturday steering his #38 Stirling Lubricants-Mohawk Northeast-Under Or Above Construction/Bicknell copy. After settling for 3rd, 4th and 5th-place feature finishes at LOLR this season, the Parish pilot now owns eight career Sportsman wins in Ontario County.
Justin Liechti edged ahead of Justin Henderson to kick off the 25-lap Sportsman finale before Henderson gained control the second time around. Yet after JT Sperring slowed down the back straightaway to bring out a yellow flag on lap six, Henderson suddenly ducked pitside suffering an exploded driveshaft that also took out the transmission to relinquish first to veteran Karl Comfort.
Tenth-place starter Sobotka had sliced his way through the 22-car field just as fast, following a high line while Comfort clung low in a high-profile duel among the front-runners. Sobotka finally nosed ahead to lead lap 11 and with no more cautions to aid his nearest challengers, cruised home for a half-straightaway win ahead of rising star Kasey Coffey. Comfort, Steve Gray and points leader Matt Guererri followed.
"Hadn't got a Sportsman win yet so it definitely feels good to be down here (victory lane) tonight," Sobotka added. "Thanks to everybody, especially my dad and grandfather. Just everybody that helps us out, couldn't do it without them."
For the third successive show it was Grant dominating in his no. 36 Fratto Curbing-Washburn Excavating Chevrolet Camaro to take home top honors in the 20-lap Street Stock feature.
"Got five wins now, its awesome," beamed Grant, after extending his points lead in search of regaining the track title he held in 2021. "Earlier in the night changed a couple plugs, my bad, then did real bad in the heat. Got that figured out and the old car is working pretty good."
Needing 14 laps before grabbing the lead on the way to his June 17 romp, a trio of early race yellows bogged down the action affording Grant plenty of time to dispose of the opposition. Finishing it off in a gallant three-wide maneuver, he bolted from sixth to first on a second lap two restart and there was nothing to stop the Penn Yan driver as he ballooned his lead to a full straightaway under chief starter Scott Hixson's checkered flag.
Carl Johnson climbed from ninth to secure second while Nick Dandino, Aksel Jensen and Chris Beyea were locked into the tightest battle of the night for Top-5 finishing positions.
As the Street Stock feature was all but decided after only two laps, the Hobby Stock outcome wasn't decided until there were just two laps left. And it was that last one-mile stretch that proved pivotal for Kerrick as the Stanley chauffeur outlasted second-generation standout Tyler Burnell to post the 15-lap victory.
"I knew I had some more traction on the bottom than I did on the top so I thought with two to go let's throw it in there and see what happens," divulged Kerrick, after passing race long leader Burnell on lap 14 then holding him back by two car-lengths to garner first-place laurels. "I just didn't want to hit Tyler so I came out good at the end."
Burnell jumped out quickly, pulling away from young Brighton Grant before his father Frank 'Bubba' Burnell Jr. and BRD teammate Brad Steinruck Jr. slowed to incur caution on lap three. By the halfway mark Justin Eldredge improved to second with Kerrick staring him down from the show position.
Three more yellow flags unfurled for minor mishaps all on lap 13, with the final slowdown the most significant giving Kerrick all the room he was looking for in his no. 61 Fratto Curbing-Mike O. from Geneva Truck Repair Chevrolet Camaro.
Rallying without a front hood in place for much of the race, Nate Peckham charged forward to finish third while Bubba Burnell recovered to end up fourth ahead of points leader Marc Minutolo, the lone driver performing double-duty during the night.
With drivers Kyle Quigley, Justin Sick, Nick Ventura and late-arriving Dominick Mangiarelli making their season-debut, the New Legends Sportsman finale was rescheduled for the following week, providing fans seven feature races plus qualifying events to further highlight the night for autograph seekers at LOLR.
LEGEND LEDGER
The first full month of summer reaches the midway mark and its Lake Beverage/Busch Light and A.M.S. Enterprises basking in the speedway spotlight for the July 15 'Saturday Spectacular.' A full six-division display of Big-Block Modified, Sportsman, 305 Sprint, Street Stock, Hobby Stock plus New Legends Sportsman headline "Family Autograph Night" with Child Advocacy Center of the Finger Lakes the weekly 50/50 drawing beneficiary. Pit gates open at 3:30pm, spectators are admitted at 5 o'clock and hot laps start at 5:30 followed by the first qualifier going green at 6:30pm.
MAKE-UP MID-WEEK MADNESS
While rain soaked the fairgrounds over the extended Independence Day holiday, fans and racers won't miss out on any of the action when two premier Modified tours come to town on Wed. July 19. . The Super DIRTcar Series makes its return to the Land of Legends when Big-Block Modifieds take center stage in the 70th Anniversary "Stars & Stripes 70" paying the winner $7,500. The mighty Mod Squad will be joined by the DIRTcar Sportsman in their own Central/West Region Series showdown with the 30-lap feature winner collecting a cool $1G. Honeoye Auto Parts backs the big DIRTcar doubleheader boasting the best in the business.
Pit gates unlock Wednesday at 4 p.m., grandstand seating opens at 5 o'clock and practice sessions including Sportsman timed hot laps start at 6:00. Big-Block group time trials go off the line at 6:30 then opening ceremonies at 7:00 followed by qualifying races for both divisions.
SKIDMARKS
Led by award-winning executive producer Art Rorick, and Chris Marquart in his absence, the LOLR TV broadcast team embodied by production assistant Makenna Hansen, graphics coordinator C.J. Miller, chief camera operators Mike Yawney, Jim & Michelle Mullen, and veteran voices Steve Ovens (PA announcer) and Doug Elkins (pit reporter) are once again on-site to provide LIVE video coverage of every event through Land of Legends TV, with LIVE streaming continuing to be offered FREE in 2023. On-line registration at https://landoflegendstv.com/orders/customer_info for a free account is the only step to take.
Also available for download is the LOLR mobile app found at Google Play
https://play.google.com/store/apps/details?id=com.goodbarber.landoflegends or
App Store
https://apps.apple.com/us/app/land-of-legends/id1508128970?uo=4 to secure your raceday pass today.
In addition to LOLR's weekly racing being simulcast on Land of Legends Raceway TV, each show will also be broadcast live on DIRTVision and highlighted by the mighty DIRTcar Big-Block Modifieds. To watch, sign up for an annual Platinum FAST PASS with DIRTVision and experience every event either online or through the DIRTVision App.
TAKE ADVANTAGE OF TICKET BUNDLES & PIT PASS PACKAGES IN 2023
General Admission Ticket and Pit Pass bundles continue to be offered to LOLR fans and race teams while providing a great opportunity to save money in the process. G.A. packs of 20 ($200) or 50 ($450) and Pit bundles of 20 ($700) or 50 ($1700) must be pre-ordered to be used during the upcoming season.
Regular weekly ticket prices remain set at $15 Adults, $13 Seniors, Kids 16 yrs. and under FREE. Pit passes are $40. For those youngsters needing pit access, Child Season Pit Passes are $50 for 2 yrs. & under and $150 for kids 3-13. Camping is FREE at all race events.
To purchase ticket and pit pass bundles or discuss marketing opportunities available at the track in 2023, please contact LOLR Director of Marketing & Operations Tana Robinson via e-mail tana@landoflegendsraceway.com or cell 716-799-5669.
Check out www.landoflegendsraceway.com often as the latest news and season schedule information will be posted right up to raceday.
Land of Legends Raceway is located on County Road 10 at the Ontario County Fairgrounds, just 1-1/2-miles north of Routes 5&20, and is easily accessible from the NYS Thruway (I-90), taking Exit 43 (Manchester, Route 21 South) traveling from the east or Exit 44 (Farmington, Route 332 South) coming from the west.
Land of Legends Raceway Event Summary – July 8, 2023
70th Anniversary Season Celebration
Geneva Club Beverage/Pepsi presents Saturday Spectacular
Pepsi Big-Block Modified
*Feature (30 laps): 1. 7z-Zach Payne ($2,000), 2. 21-Derrick Podsiadlo, 3. 14j-Alan Johnson, 4. 42p-Pat Ward, 5. 39-Kyle Coffey, 6. 27j-Danny Johnson, 7. 3-Justin Haers, 8. 29-Matt Caprara, 9. 27jr-Daniel Johnson Jr., 10. 34-Kevin Root, 11. 15-Todd Root, 12. 88-Dave Allen, 13. 29ny-Greg Birosh, 14. 21a-Peter Britten, 15. 11j-James Sweeting, 16. 7s-Torrey Stoughtenger, 17. 70a-Alex Payne, 18. 11n-Ricky Newton, 19. 56a-Troy Sperring, 132-Dalton Martin(DNS).
Heats (8 laps)
#1: Z.Payne, A.Payne, Britten, Martin, D.Johnson Jr, Allen, Coffey, Sweeting, Birosh, T.Root.
#2: D.Johnson, A.Johnson, Root, Podsiadlo, Ward, Haers, Caprara, Stoughtenger, Newton, Sperring.
Stirling Lubricants Sportsman Modified
*Feature (25 laps): 1. 38-Zach Sobotka ($750), 2. 32c-Kasey Coffey, 3. 10-Karl Comfort, 4. 29g-Steve Gray, 5. 12g-Matt Guererri, 6. 7-Paul Guererri, 7. 30-Nick Root, 8. 21j-Justin Liechti, 9. 32-Carter Crooker, 10. 9-Tim Baker, 11. 26-Greenley George, 12. 34-Behr Grover, 13. 113jr.-Frank Guererri Jr., 14. 31-Kane Bristol, 15. 28-Mark Potter, 16. 57-Lance Dusett, 17. 35x-Greg Crooker, 18. 51-Tim Lafler, 19. 35-Nick Cooper, 20. 18h-Justin Henderson, 21. 7j-JT Sperring, 22. 2-Loren Lincoln.
Heats (8 laps)
#1: Bristol, Sperring, Liechti, P.Guererri, Potter, Lafler, C.Crooker, Dusett.
#2: Comfort, Sobotka, M.Guererri, Grover, F.Guererri, George, G.Crooker.
#3: Coffey, Gray, Cooper, Henderson, Baker, Root, Lincoln.
MighTea Boba 305 Sprint
*Feature (20 laps): 1. 10-Johnny Kolosek ($500), 2. 66-Jordan Hutton, 3. 22-Tomy Moreau, 4. 48jr.-Darryl Ruggles, 5. 8-Dillon Paddock, 6. 2-Randy Years, 7. 17e-Ethan Gray, 8. 121-Steve Glover, 9. 77-Matt Rotz, 10. 18c-Dan Craun, 11. 18-Timmy Lotz, 12. X-Dan Bennett, 13. 23-John Smith, 14. d9-Dustin Sehn, 15. 30-Kirsten Dombroski, 16. 1Q-Thomas Radivoy, 17. 33z-Sydney Wetherbee, 18. 80-Bobby Parrow, 19. 21b-Blake Warner, 20. 14-James Layton, 21. 99-Adam DePuy, 22. 48a-Alysha Bay.
Heats (8 laps)
#1: Parrow, DePuy, Glover, Hutton, Gray, Rotz, Bay, Sehn.
#2: Kolosek, Craun, Moreau, Layton, Radivoy, Dombroski, Warner.
#3: Years, Smith, Ruggles, Bennett, Paddock, Lotz, Wetherbee.
Eldredge & Sons Scrap Recycling Street Stock
*Feature (20 laps): 1. 36-Jimmy Grant ($500), 2. 87-Carl Johnson, 3. 57j-Nick Dandino, 4. 9-Aksel Jensen, 5. 122-Chris Beyea, 6. 3-Patrick Hobbs, 7. 22-Carl Cleveland, 8. 74- Ronald "Bundy" Metcalf, 9. 12-John Burritt, 10. 25b-Marc Minutolo, 11. 4x-Zach Teed, 12. 63-Mike Fellows, 13. cj1-CJ Guererri, 14. 5c-Rick Crego, 15. 00-Mike Welch.
Heats (6 laps)
#1: Guererri, Welch, Johnson, Cleveland, Crego, Hobbs, Teed, Minutolo.
#2: Beyea, Dandino, Jensen, Grant, Burritt, Metcalf, Fellows.
Lloyd's Contracting Hobby Stock
*Feature (15 laps): 1. 61-Daniel Kerrick, 2. 57jr.-Tyler Burnell, 3. 90-Nathan Peckham, 4. 57b-Frank 'Bubba' Burnell Jr., 5. 25b-Marc Minutolo, 6. 57x-Brad Steinruck Jr., 7. 17jr.-Jamie Eldredge Jr., 8. 88-Justin Jacoby, 9. 11k-Dan Korpanty, 10. 25j-Justin Eldredge, 11. 18-James Scott, 12. 36x-Brighton Grant, 13. 55b-Blane Smith, 14. 22j-Kevin Lloyd, 55p-Parker Smith(DNS).
Heats (6 laps)
#1: Peckham, T.Burnell, Kerrick, Minutolo, Korpanty, Scott, Lloyd, Ju.Eldredge.
#2: B.Smith, Grant, Ja.Eldredge, Steinruck, Jacoby, F.Burnell, P.Smith(DNS).
Maguire Ford of Canandaigua New Legends Sportsman
*Feature / Curfew-Delayed to 7/15 (12 laps) Starting Line-Up: 1. 4j-Kyle Quigley, 2. 711-Nick Ventura, 3. 20k-Kyle Ridley, 4. 51-Justin Sick, 5. 57j-Bruce Batzel, 6. 87s-Brad Sawyer, 7. 56a-Angel Sperring, 8. 31k-Kennedy Payne, 9. 20-Dominick Mangiarelli.
Heat (6 laps)
#1: Payne, Sperring, Sawyer, Batzel, Sick, Ridley, Ventura, Quigley, Mangiarelli(DNS).
UPCOMING EVENTS:
Saturday Spectacular, July 15 @ 6:30pm; Lake Beverage/Busch Light and A.M.S. Enterprises present "Family Autograph Night" - Big-Block Modified/Sportsman/305 Sprint/Street Stock/Hobby Stock plus New Legends Sportsman with Child Advocacy Center of the Finger Lakes Benefit.
Wednesday Super Spectacular, July 19 @ 7pm; Honeoye Auto Parts presents Super DIRTcar Series Big-Block Modified "Stars & Stripes 70" plus DIRTcar Northeast Sportsman Series Central/West Region(30L) with DIRTcar Hall of Fame Benefit.
Track Instant Info
Website: www.LandOfLegendsRaceway.com
E-Mail: info@LandOfLegendsRaceway.com
Twitter: @LandofLegendsNY
Facebook: @LandofLegendsNY
Instagram: @LandofLegendsNY
Live Stream: https://landoflegendstv.com/