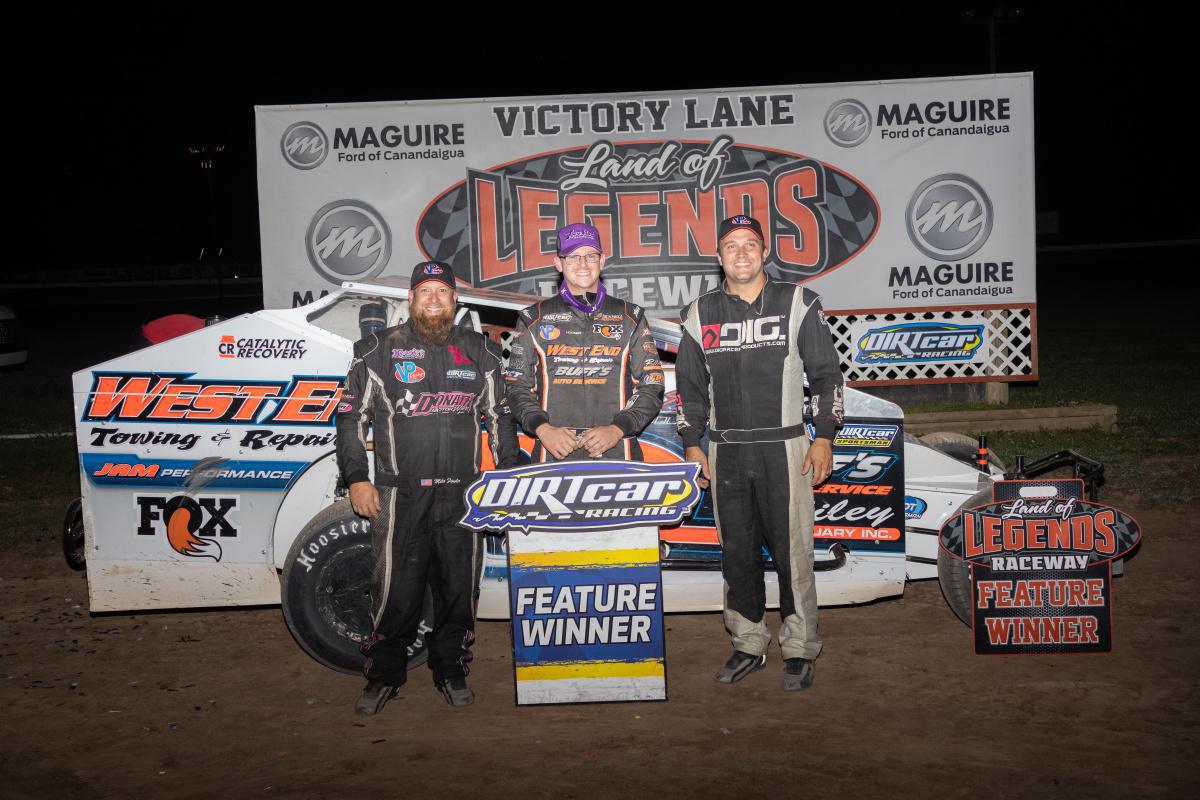 Sheppard & Buff Share Spotlight In 'SummerFAST' Series Shootout At LOLR Pepsi Big-Block Modified Points Championship on the line as action returns August 26
Canandaigua, NY – August 16, 2023 – Tom Skibinski, Land of Legends Raceway PR
'SummerFAST' is quickly evolving into the 'SheppardFEST' as Waterloo's Matt Sheppard continued to dominate the Super DIRTcar Series mid-summer traveling show, closing out the rain-shortened two-day affair Wednesday with his 89th career Pepsi Big-Block Modified victory at Land Of Legends Raceway.
Presented by Honeoye Auto Parts, Seneca Auto Sales & Service, DC Rauscher Contractor and Monroe Tractor for a second straight season, Sheppard matched his 60-lap feature win scored last year at the same Ontario Co. Fairgrounds oval, adding $7,500 to his growing bank account while padding his SDS points lead in search of an unprecedented 10th tour crown.
"Nice to do this in front of a hometown crowd, a lot of friends and family here tonight," remarked Sheppard, following his 8th SDS win on home soil, breaking the tie with all-time LOLR winner Alan Johnson. "My dad with Seneca Auto has a (VIP) booth up there and so does (Dave) Rauscher, a lot of supporters here tonight. Definitely a big night for this team."
Showcasing the second 'Wednesday Super Spectacular' of the season in Canandaigua, Andrew Buff made a triumphant return to wine country as the Eastern New York invader kicked off the DIRTcar Northeast Championship Series with a thrilling 30-lap win in the Stirling Lubricants Sportsman Modified main.
After Sheppard dueled with Canadian star Mat Williamson before 'Money Mat' slid past 'Super Matt' on lap 59 of the 60-lapper run at Brewerton Speedway in the SDS 'SummerFAST '23' opener on Monday, the Waterloo warrior would not be denied in Wednesday's wrap-up session. Rain washed out round two of the three-race mini-series scheduled Tuesday at Brewerton's CNY sister Fulton Speedway.
Matching his success in the fairgrounds' SDS show staged in July, Sheppard set fast time (18.453sec., 97.545mph) among 38 Big-Block entries then went out and won the first of four qualifying heats steering the familiar #9S Hurlock Auto & Speed-Westmoreland Golf Glub-St.Lawrence Radiology/Bicknell machine. Come feature time he filed in third once again on the star-studded 27-car starting grid, with only front row partners Mike Mahaney and Jack Lehner keeping him at bay.
"Everything just went our way tonight," noted Sheppard, following his third win of SDS '23, with five more runner-up tallies logged in the 13 tour races run to date. "We had a really good car early, was good in the heat, drew a good number for the feature and the (feature) goes maybe one caution. The track was definitely changing around a little bit there, I think the top was the place to be for awhile, then I started running on Mike on the bottom. Of course it always gets interesting in traffic, just thankful to finally be here in victory lane and not be the first loser tonight."
While Mahaney and Lehner swapped the lead twice in the early stages, Sheppard waited patiently before pouncing just shy of the halfway mark. Lehner nosed ahead on lap two before Frenchman Felix Roy and Darren Smith tangled between turns one and two to incur the lone caution the third time around. After the ensuing lap six restart, Mahaney regained the point on lap seven.
Sheppard wrestled away second from Lehner exiting turn four on lap 10 and needed a half-dozen more times around the historic half-miler to erase the gap between Mahaney. Weaving their way through traffic with precision, the lead pair crossed under the flagstand even on lap 17 yet 'Super Matt' remained focused as lapped cars only delayed the inevitable for the nine-time and reigning SDS points king.
After maneuvering both high and low to shadow the leader with a third of the race complete, Sheppard finally ducked under fellow second-generation driver Mahaney rounding turn four to complete lap 25 and leave only the race for second undecided as the remaining laps clicked off without pause.
"I never really felt comfortable anywhere, felt like I was struggling in traffic," divulged Sheppard, despite cruising home for a commanding straightaway victory over Mahaney and Lehner, with 12th starting Williamson edging LOLR's July series winner Tim Fuller for fourth on the white flag lap. "Felt like I got to the point where I really had to be on the top off of (turn) two and kind of move around a little bit in three and four."
"The track just got tricky tonight. Didn't think we were that great at the end of the race but good enough to get to victory lane and we'll take it for sure," added the repeat 'SummerFAST' champion, who bested Williamson by a count of 310-305 followed by Lehner (292), Fuller (272) and Jimmy Phelps (266). In the overall SDS standings, Sheppard now leads Williamson by 64 points, 1939-1875, with Phelps (1710), Mahaney (1704) and Tim Sears Jr. (1696) closest in pursuit.
In search of his second career win in Canandaigua aboard the #35 Adirondack Auto-Huttig Racing/Bicknell mount, Mahaney settled for runner-up laurels after a late-race battle royale with Lehner.
"It was good solid racing out there," stated Mahaney, who etched his name on the LOLR win chart in July of 2016. "Matt just had the better speed from the middle of the apex off of (turn) four to get to that bite on the outside of the frontstretch. We had a really good car, really happy with our team tonight. Have to thank Honeoye Auto for chipping in with that (gas card) bonus tonight, everything helps out."
Lehner's strong third-place finish, his best-ever run at the fairgrounds, provided the Saratoga Springs chauffeur with his first trip to the podium in the 2023 SDS.
"Felt pretty good out there, early on with the restart felt really good on the top when we first fired off," recalled Lehner, after keeping the no. 2L Benson's Pet Center-NAPA Auto Parts-Club Wago/Bicknell in prime position throughout the 30-mile affair. "Then right before that caution came out, Mahaney showed a nose on the bottom and I thought 'phew, what do I do here now' so I picked the bottom and maybe that wasn't the best move."
"Felt really equal with Mike, was hoping to get by him in lapped traffic at the end. Sheppard was a little better through (turn) four here, that was where he was killing us. But congrats to those two guys, third is always good on tour," Lehner said.
Open-wheel tour action continues at Ransomville Speedway on Tue. Aug. 22 with the 38th Annual 'Summer Nationals' featuring another twin-bill for the Big-Block Super DIRTcar Series and DIRTcar Northeast Sportsman Championship Series.
While Sheppard had the Big-Block feature well in hand for more than half the race, the Sportsman nightcap needed nearly the entire distance to find the winner and ultimately determine a final front-five running order as positions changed almost every lap. Buff led all 30 circuits to walk away with his first-ever LOLR win in July yet the Latham wheelman was only able to grab first from Mike Fowler with four to go on this occasion after dicing bumper-to-bumper for a dozen laps.
"We didn't really fire that well but the car just kept getting better and better as the race went on," described Buff, who turned the fastest lap of 93.877mph (19.174sec.) for the second time at the fairgrounds this season before once again parking the potent #92 West End Towing & Repairs-JAM Performance-Elmo's Speed & Supply/Bicknell entry in LOLR victory lane. "Started getting some heat in the right rear tire, kept getting better, just needed green flag laps like we had."
Pole-sitter Fowler and fairgrounds favorite Frank Guererri Jr. set the pace early from their front row perch, leading a fast field of 30 racers all chasing the $1,500 first-place prize. Guererri found the middle groove to his liking, forcing the first lead change past Fowler as the dirt duo rounded turn four at the end of lap seven.
Taylor Doxtater stopped out turn one (lap 9) and Nelson Mason got airborne after tangling with Nick Root in turn three (lap 11) to require the only yellow flag slowdowns, with Fowler taking advantage on the second and final restart to steal first from Guererri in his own turn four surge on lap 12.
After that, non-stop action around the track remained hot and heavy for the duration. Sixth-starting Buff broke free midway through to chase Fowler with Matt Janczuk sandwiched between Guererri and LOLR points leader Zach Sobotka as the talented titans jockeyed back-and-forth among the top-five.
With 20 laps in the book, the top twosome managed to pull away from the pack, yet Janczuk wasted little time making it a three-way contest after 25 circuits were complete. Charging down the frontstretch nose-to-tail on lap 26, Buff edged ahead by a foot the next time around.
Two laps later Janczuk stole second from Fowler at the line before closing in to finish four car-lengths behind Buff under the checkers. Guererri and Austin Germinio fllled out the final front-five to close out the 21-minute main that featured 25 cars completing the entire 15-mile distance.
"Was searching around a little bit in (turns) one and two while I was trying to reel (Mike) in," stated Buff, the DIRTcar Sportsman Central Region kingpin and leading contender in the overall title chase. "We were running the same line in three and four so I knew I had to pass him in one and two. There was a little bit of moisture through the center there and I could hit it on the exit and get a run down the backstretch."
"After winning here last time we came back with (set-up) what we had and it really showed. Have to thank Ray (Sefrin) from West End (owner in Amsterdam), without him none of this wold be possible," Buff concluded.
Already winning at LOLR in June, Janczuk settled for second after a late-race charge fell just a few laps short behind the wheel of his Billy Whittaker Cars & Trux-Ted's Body Shop/TEO RXD numbered 33X.
"We were just searching, rode around the race track just trying to find something," disclosed Janczuk, whose first three Canandaigua wins came in 2020 when the Durhamville driver scored his lone victory in series competition. "The track had a little more speed than I expected."
"We got stuck on the bottom on a couple restarts and I didn't want to be there. Andrew kinda got around everybody on the top there to get second and third and that just put us behind a little bit. Think we had a pretty good car, was moving around a lot once we got into traffic. Not really gaining a whole lot but I was still gaining which was good. But hats off to them, they had a good car. We did too, was fast and we'll take a second."
The no. 410 Donath Motor Worx-Scott Jeffery's Performance Plus-Atomic Sign Works/Bicknell ride with Fowler behind the wheel was also fast, posting the quickest time in his own qualifying session before winning his heat race.
"I'll take it, (3rd) is the best run we've had here in a very, very long time," figured Fowler, after the Fulton invader bettered his best previous tour finish of fifth at Canandaigua. "We've been struggling coming here as we don't race here weekly. Seems like when you come here you don't really know what you're gonna get for a track. So you just kinda gotta throw something at the dart board and hope it sticks."
"Tonight we unloaded well, very happy with a third-place finish. Probably should've just ran my own race instead of worrying about if anyone was coming. And maybe I could've been up there and would've won tonight but I didn't. Hats off to Buff and Janczuk, they ran a helluva race. Still had fun running up front with Frankie, had a good time," added an openly disappointed Fowler.
Before heading out west to Ransomville next week, the DIRTcar NE Sportsman Champ trail invades the east side as Glen Ridge Motorsports Park hosts the 'Battle At The Ridge 50' on Sun. Aug. 20, paying out $1,500 to the feature race winner.
LEGEND LEDGER
While there will be no racing at the fairgrounds on Aug. 19, the 'Saturday Spectacular' presented by Geneva Club Beverage & Ferris Mowers on Aug. 26 will be Modified Season Championship Night with double points on the line for Pepsi Big-Block title contenders. Justin Haers leads Peter Britten in his bid for a third straight season championship, followed by all-time LOLR feature winner Alan Johnson, second-year standout Alex Payne, veteran Danny Johnson and rising star Kyle Coffey.
Stirling Lubricants Sportsman, MighTea Boba 305 Sprint Car, Eldredge & Sons Scrap Recycling Street Stock, Lloyd's Contracting Hobby Stock and Maguire Ford of Canandaigua New Legends Sportsman divisions complete the final show of the month in Ontario County. Track champions will be crowned in those same classes the following week as all track point chases come to an end Sept. 2.
Practice sessions kick off on-track activity at 5:30pm. Heat race qualifiers for all five divisions go green at 6:30pm with pit gates opening at 3:30pm and spectators gaining admittance into the main grandstands at 5 o'clock.
SKIDMARKS
Led by award-winning executive producer Art Rorick, and Chris Marquart in his absence, the LOLR TV broadcast team embodied by production assistant Makenna Hansen, graphics coordinator C.J. Miller, chief camera operators Mike Yawney, Jim & Michelle Mullen, and veteran voices Steve Ovens (PA announcer) and Doug Elkins (pit reporter) are once again on-site to provide LIVE video coverage of every event through Land of Legends TV, with LIVE streaming continuing to be offered FREE in 2023. On-line registration at https://landoflegendstv.com/orders/customer_info for a free account is the only step to take.
Also available for download is the LOLR mobile app found at Google Play
https://play.google.com/store/apps/details?id=com.goodbarber.landoflegends or
App Store
https://apps.apple.com/us/app/land-of-legends/id1508128970?uo=4 to secure your raceday pass today.
In addition to LOLR's weekly racing being simulcast on Land of Legends Raceway TV, each show will also be broadcast live on DIRTVision and highlighted by the mighty DIRTcar Big-Block Modifieds. To watch, sign up for an annual Platinum FAST PASS with DIRTVision and experience every event either online or through the DIRTVision App.
To purchase ticket and pit pass bundles or discuss marketing opportunities available at the track, please contact LOLR Director of Marketing & Operations Tana Robinson via e-mail tana@landoflegendsraceway.com or cell 716-799-5669. Check out www.landoflegendsraceway.com often as the latest news and season schedule information will be posted right up to raceday.
Land of Legends Raceway is located on County Road 10 at the Ontario County Fairgrounds, just 1-1/2-miles north of Routes 5&20, and is easily accessible from the NYS Thruway (I-90), taking Exit 43 (Manchester, Route 21 South) traveling from the east or Exit 44 (Farmington, Route 332 South) coming from the west.
Land of Legends Raceway Event Summary – August 16, 2023
70th Anniversary Season Celebration
Honeoye Auto Parts, Seneca Auto Sales & Service, DC Rauscher Contractor, Monroe Tractor present Wednesday Super Spectacular - Super DIRTcar Series Race #13 Pepsi Big-Block Modified "SummerFAST 60"
*Feature (60 laps): 1. 9s-Matt Sheppard ($7,500), 2. 35-Mike Mahaney, 3. 2L-Jack Lehner, 4. 88-Mat Williamson, 5. 19-Tim Fuller, 6. 39-Kyle Coffey, 7. 3-Justin Haers, 8. 70a-Alex Payne, 9. 91-Felix Roy, 10. 25-Erick Rudolph, 11. 98h-Jimmy Phelps, 12. 99L-Larry Wight, 13. 8h-Max McLaughlin, 14. 34a-Anthony Perrego, 15. 84y-Alex Yankowski, 16. 14j-Alan Johnson, 17. 15-Todd Root, 18. 54-Steve Bernard, 19. 5h-Chris Hile , 20. 83x-Tim Sears Jr., 21. 12-Darren Smith, 22. 29-Matt Caprara, 23. 14-C.G. Morey, 24. 42p-Pat Ward, 25. 7z-Zach Payne, 26. 15x-Justin Stone, 27. 17-Marcus Dinkins.
Seneca Auto Sales & Service/DC Rauscher Contractor 'Hard Charger' ($400): Felix Roy.
Seneca Auto Sales & Service/DC Rauscher Contractor 'Hard Luck' ($400): Tanner VanDoren.
Seneca Auto Sales & Service/DC Rauscher Contractor 'Last Car On Lead Lap' ($400): Anthony Perrego.
Honeoye Auto Parts $300 Gas Card (1st-place): Matt Sheppard.
Honeoye Auto Parts $200 Gas Card (2nd-place): Mike Mahaney.
Honeoye Auto Parts $100 Gas Card (3rd-place): Jack Lehner.
Heats (8 laps / 5 qualify / top-2 redraw)
#1: Sheppard, Coffey, Caprara, Morey, Stone, Yankowski, Perrego, Hile, Sweeting, Wright(DNS).
#2: T.Root, Mahaney, McLaughlin, Phelps, Wight, Z.Payne, VanDoren, Pierson, Bernard.
#3: Fuller, Lehner, A.Payne, Dinkins, A.Johnson, Roy, D.Johnson, Wolbert, Allen, K.Root(DNS).
#4: Sears, Haers, Williamson, Ward, Rudolph, Smith, Stoughtenger, Martin, D.Johnson Jr.(DNS).
HYTORC of NY Last Chance Showdowns (10 laps/ 2 qualify)
#1: Z.Payne, Yankowski, VanDoren, Perrego, Hile, Bernard, Sweeting, Pierson, Wright(DNS).
#2: Roy, Smith, D.Johnson, Martin, Wolbert, Stoughtenger, Allen, D.Johnson Jr.(DNS), K.Root(DNS).
Provisionals: Hile, Bernard, Perrego
Low E Insulation Group Time Trials (3 laps / 38 cars)
#1: Sheppard 18.453sec. (97.545 mph), T.Root 18.528, Coffey 18.711, Mahaney 18.751, Sweeting 18.768, McLaughlin 18.836, Stone 18.861, Phelps 18.868, Yankowski 18.879, Z.Payne 18.890, Caprara 18.964, Wight 18.982, Perrego 19.025, VanDoren 19.062, Morey 19.070, Pierson 19.107, Wright 19.126, Bernard 19.284, Hile 19.369.
#2: Lehner 18.889sec. (95.294 mph), Sears 18.928, Fuller 18.934, Haers 18.935, A.Payne 18.953, Williamson 18.963, Roy 19.057, Ward 19.105, Dinkins 19.133, Smith 19.147, A.Johnson 19.170, Martin 19.185, Wolbert 19.267, Rudolph 19.276, D.Johnson 19.282, D.Johnson Jr. 19.297, Allen 19.863, Stoughtenger(-NT-), K.Root(-NT-).
DNQ: c3-Chas Wolbert, 7s-Torrey Stoughtenger, 11j-James Sweeting, 19w-Justin Wright, 22-Tanner VanDoren, 27j-Danny Johnson, 27jr-Daniel Johnson Jr., 34-Kevin Root, 88-Dave Allen, 132-Dalton Martin, 213-Adam Pierson.
2023 SummerFAST Series Champion: Matt Sheppard
Stirling Lubricants Sportsman Modified
DIRTcar Northeast Championship Series Race #1
*Feature (30 laps): 1. 92-Andrew Buff ($1,500), 2. 33x-Matt Janczuk, 3. 410-Mike Fowler, 4. 113jr.-Frank Guererri Jr., 5. 10g-Austin Germinio, 6. 64-Tyler Corcoran, 7. 38-Zach Sobotka, 8. 52-Jessica Power, 9. 01-Zach Buff, 10. 31-Kane Bristol, 11. L7-Cody McPherson, 12. 35t-Cameron Tuttle, 13. 18e-Gavin Eisele, 14. 33-Richard Murtaugh, 15. 6-Cody Manitta, 16. 18h-Justin Henderson, 17. 31b-Ryan Dolbear, 18. fox28-Tyler Stevenson, 19. 9-Tim Baker, 20. 2-Taylor Doxtater, 21. 51k-Kreg Crooker, 22. 35-Nick Cooper, 23. 10-Karl Comfort, 24. 32-Carter Crooker, 25. 51-Tim Lafler, 26. 57h-Remington Hamm, 27. 42-Daryl Nutting, 28. 35m-Nelson Mason, 29. 30-Nick Root, 30. 7-Matt Guererri.
Honeoye Auto Parts $300 Gas Card (1st-place): Andrew Buff.
Honeoye Auto Parts $200 Gas Card (2nd-place): Matt Janczuk.
Honeoye Auto Parts $100 Gas Card (3rd-place): Mike Fowler.
Heats (8 laps / 5 qualify / top-2 redraw)
#1: A.Buff, Z.Buff, Bristol, Mason, K.Crooker, Dolbear, Lafler, Hamm, Doxtater, G.Crooker.
#2: Germinio, Power, Corcoran, Henderson, Baker, LaFlair, C.Crooker, Davis, Backus, Grover,
#3: Janczuk, F.Guererri, Root, Murtaugh, Nutting, Eisele, M.Guererri, Manitta, Waldron, Coffey.
#4: Fowler, Sobotka, Tuttle, McPherson, Comfort, Stevenson, P.Guererri, Cooper, Henry, Liechti, Potter.
Last Chance Showdowns (10 laps/ 3 qualify)
#1: C.Crooker, Dolbear, Lafler, Hamm, Doxtater, LaFlair, Davis, G.Crooker, Backus, Grover.
#2: Eisele, Cooper, Stevenson, Manitta, M.Guererri, Coffey, P.Guererri, Waldron, Henry, Liechti, Potter(DNS).
Provisionals: Hamm, Manitta, Doxtater, M.Guererri.
Group Time Trials (3 laps / 41 cars)
#1: A.Buff 19.174sec. (93.877 mph), Z.Buff 19.233, Bristol 19.303, Mason 19.342, Doxtater 19.620, K.Crooker 19.743, Hamm 19.950, Lafler 20.098, G.Crooker 20.549, Dolbear(-NT-).
#2: Germinio 19.376sec. (92.898 mph), Corcoran 19.426, Power 19.518, C.Crooker 19.660, Henderson 19.887, Baker 20.011, Davis 20.029, Backus 20.083, LaFlair 20.149, Grover 20.442.
#3: Janczuk 19.425sec. (92.664 mph), Nutting 19.513, Root 19.560, Manitta 19.571, F.Guererri 19.659, M.Guererri 19.789, Murtaugh 19.813, Eisele 19.863, Waldron 19.915, Coffey 19.976.
#4: Fowler 19.497sec. (92.322 mph), Sobotka 19.534, Tuttle 19.618, Stevenson 19.823, McPherson 19.833, P.Guererri 19.890, Comfort 19.942, Cooper 19.958, Henry 20.040, Potter 20.333, Liechti 20.596.
DNQ: 4-Emmett Waldron, 7-Paul Guererri, 16x-Savannah LaFlair, 21-James Henry, 21j-Justin Liechti, 28-Mark Potter, 32c-Kasey Coffey, 34-Behr Grover, 35x-Greg Crooker, 95-Kearra Backus, 138-Dana Davis.
NEXT EVENT: Saturday Spectacular, August 26 @ 6:30pm; Geneva Club Beverage & Ferris Mowers present Big-Block Modified Season Championship Night plus Sportsman/305 Sprint/Street Stock and Hobby Stock with Colony Caregivers Benefit.
*No Racing Sat., August 19.
Track Instant Info
Website: www.LandOfLegendsRaceway.com
E-Mail: info@LandOfLegendsRaceway.com
Twitter: @LandofLegendsNY
Facebook: @LandofLegendsNY
Instagram: @LandofLegendsNY
Live Stream: https://landoflegendstv.com/
Along with recognizing its weekly 50/50 raffle fund beneficiaries, Land of Legends Raceway is proud to salute several sponsors and corporate partners that continue to help bring its fans the best Saturday night racing show in the Northeast. Listed alphabetically are 2023 division sponsors Eldredge & Sons Scrap Recycling, Pepsi Geneva Club Beverage, Lloyd's Contracting, Maguire Ford of Canandaigua, MighTea Boba, Stirling Lubricants; event sponsors Admar Construction Equipment & Supply Company, Auction Direct USA, Auto Value Parts Stores, A-Verdi Storage Containers, Busch Light, DC Rauscher Contractor, Ferris Mowers, Genesee Beer/Coors Light/Twisted Tea, Geneva Club Beverage/Pepsi, Honeoye Auto Parts, Jack Howell Properties, iFreeze Storage & Distribution Center, Maguire Ford of Canandaigua, Nardozzi Companies, Phelps Cement Products, Prouty's Bar & Grill, Regional Truck & Trailer, Ryan Phelps Auto Sales, Seneca Auto Sales & Service, Seneca Meadows Landfill, Sherwin Williams Paint, Tradition Automotive Group, VP Racing Fuels; promotional partners Always Locked Self Storage, American Woman Designs, Auto Wash Car Wash, Baker's Externinating, Champion Power Equipment, Disbatch Brewing Company, Elab Smokers Boutique, Emerson Oil Company/Castrol, Enertech Global, FLX BBQ Company, Geneva Club Beverage, Hoosier Racing Tire, IndyKart Raceway, LSI Solutions, Legott's Club 86, Mac's Dairy Bar & Mini Golf, Maguire Ford of Canandaigua, Meyer's Finger Lakes RV, Mike Emhof Motorsports, Ontario County Fairboard, On The Rocks Bar & Grill, Phelps Community Center Head Start Program, The "Original" Red Osier Landmark Restaurant, Schultz Heating & Cooling, Spectrum, Stop DWI NYS, Superior Plumbing Service, Turn 5 Media, Vance Metal Fabrication, Weedsport Hall of Fame, Wicked Tees.